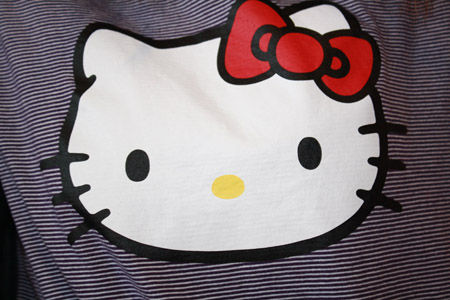 Plutôt que de vous re-servir l'éternel poisson (j'ai rien contre les poissons hein), pour inaugurer le mois d'avril je préfère vous présenter un petit chat !
Rather than using again the too well-known fish (I have nothing again fishes…), I prefer introduce you to a little kitty, to begin this month of april !
Pour des raisons de sécurité, je ne vous présente pas mes vrais chats, armés de griffes et d'un esprit un brin tordu qui les peut les rendre imprévisibles (oui j'ai une vie dangereuse n'est ce pas…)
Non, là il s'agit simplement de mon nouveau t-shirt Hello Kitty, acheté par hasard dans le Marais.
For safety reasons, I won't show you my real cats, with their dangerous claws and their kind of crazy brain which can make them unpredictable (yes, I have a dangerous life!)
No, here, I'm simply talking about my new Hello Kitty t-shirt I bought by chance in Le Marais.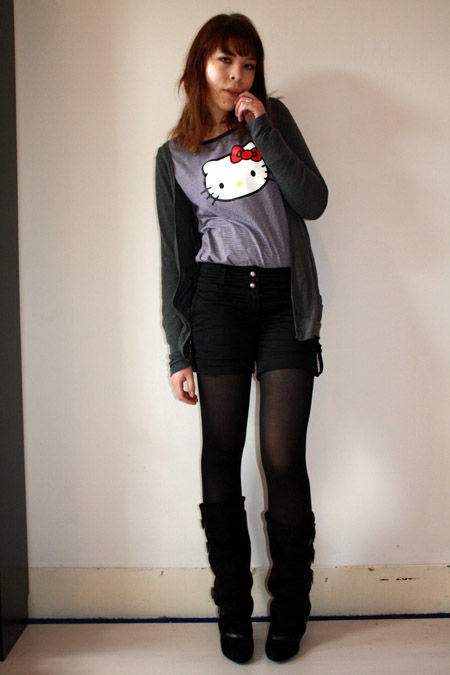 Je ne connaissais pas bien la marque Victoria Couture, je me demandais quel était cet étrange concept régressif de petits chats sur des pulls en cachemire hors de prix.
Puis j'ai vu ce t-shirt, les souvenirs d'enfance ont resurgi et (le prix réduit aidant) j'ai finalement craqué pour ce petit chat sans bouche.  Oui, je suis faiiible !
I didn't really know Victoria Couture brand; I was wondering about this strange concept of little cats on overprices cachemire sweaters. Then, I saw this T-shirt and children memories resurfaced, and (helped by the reduced price), I finally fell for that little without mouth kitten. Yes, I'm Weaaak !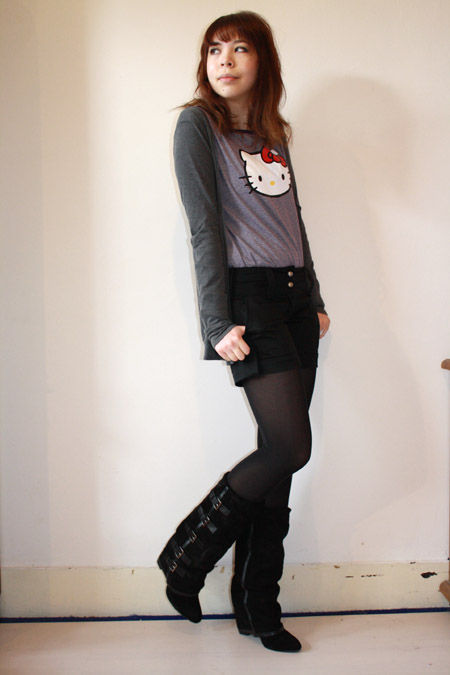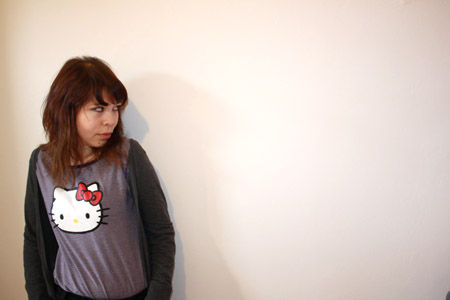 T-Shirt Victoria Couture/ Gilet American Vintage/ Short Jenyfer/ Bottes Asos
Victoria Couture T-shirt/ American Vintage cardigan/ Jenyfer short/ Asos boots
PS : Désolée pour les photos pas terribles, avec les révisions je n'ai pas eu le temps d'en faire d'autres…Je me rattraperai, c'est promis !
Sorry for the crappy picture, didn't have time to make others (work !). I promise, I'll do better ones soon !