Quand j'ai un peu de temps, je trouve qu'il est toujours agréable de faire une petite balade pour s'aérer l'esprit et oublier l'espace d'un un instant le tumulte du centre ville. Et maintenant que le printemps arrive petit à petit, que les bourgeons pointent le bout de leur nez, c'est encore mieux !
When I have a little time for me, I find it very pleasant to do a little walk to get some fresh air and to escape physically and mentally from the city uproar.  And now that spring is coming, that the buds pop out, it's even better !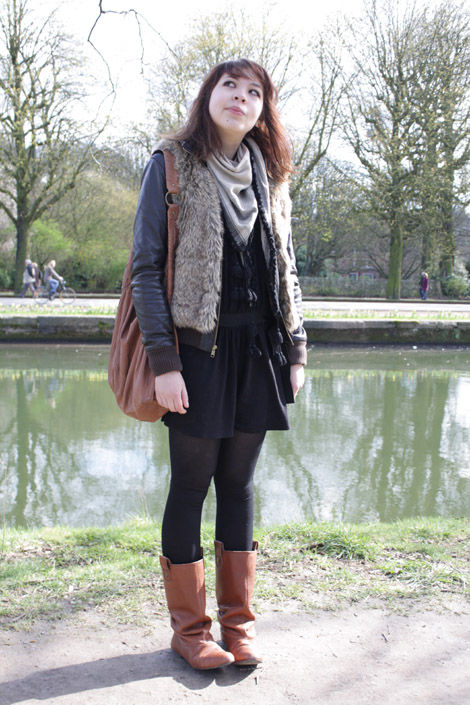 Hier donc, petite promenade pour mettre de côté mes révisions qui commencent vraiment à me stresser. Comme il fait encore un peu froid, j'ai préféré être prudente et superposer veste en cuir et gilet de fausse fourrure. Et finalement, au bout d'un quart d'heure, comme le temps s'est un peu réchauffé j'ai laissé tomber la veste en cuir pour ne garder que la fourrure ! Je crois que c'est la dernière fois de la saison que je porterai ce gilet…
So yesterday I made a little walk to forget for a while my exams which are coming soon and are beginning to stress me. As the weather is still a little cold, I choose to be careful and to overlay a leather jacket with a faux fur jacket. Finally, 15 minutes later, as the weather has warned up a bit, I dropped the leather jacket and only kept the fur ! I think it's the last time of the season I'll wear this fur jacket…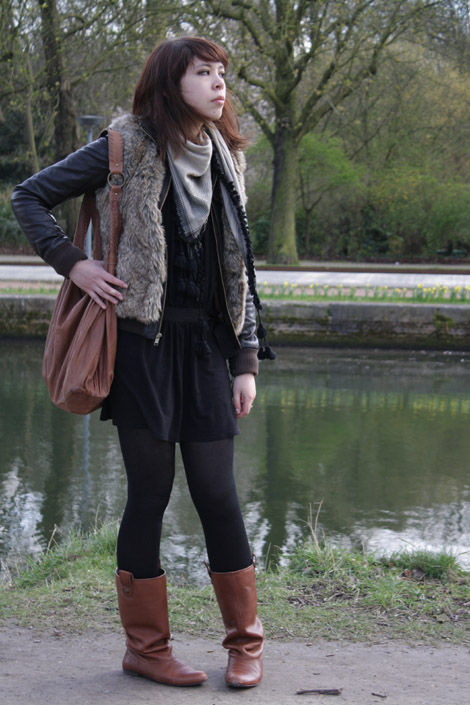 Je me rend compte que je vous parle souvent du temps qu'il fait. Oh my God, je ne veux pas ressembler à une petite mémé qui n'a rien d'autre à dire ! Mais quand on parle de fringues, le temps est aussi un élément important pour moi… Je n'envisagerais pas une tenue dans laquelle j'ai trop froid ou trop chaud, dont l'importance capitale de la météo ! Voilà, Miss Météo me voici :)
I realize I often speak about what the weather is like. My God, I don't want to look like an old lady who has nothing else to say ! But when I speak about clothes, I think the weather is important too… I won't wear an outfit in which I'm too cold or too warm. So here I am, Miss Weather !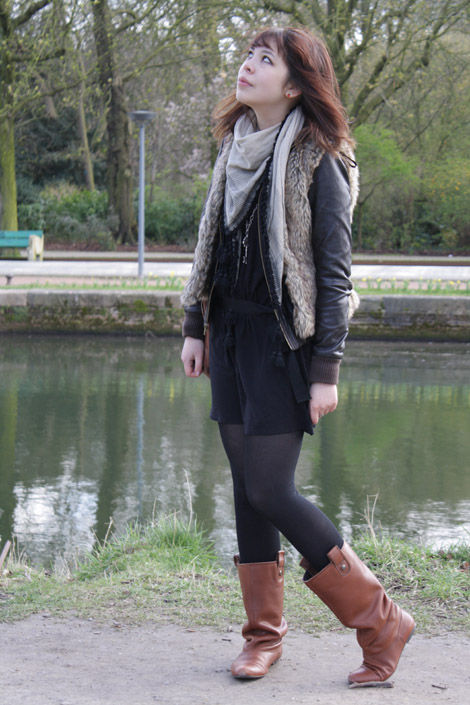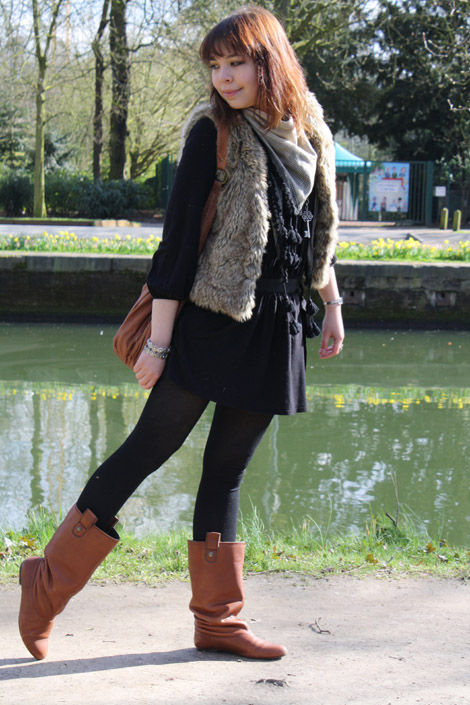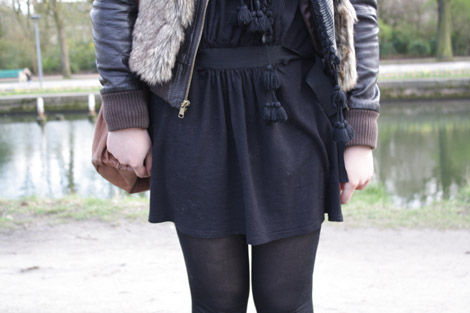 Robe Sandro/ Veste en cuir Bershka/ Gilet en fausse fourrure New Look/ Bottes Zara/ Sac Aridza Bross
Sandro dress/Leather jacket Bershka/ Faux Fur jacket New Look/ Zara boots/ Aridza Bross bag